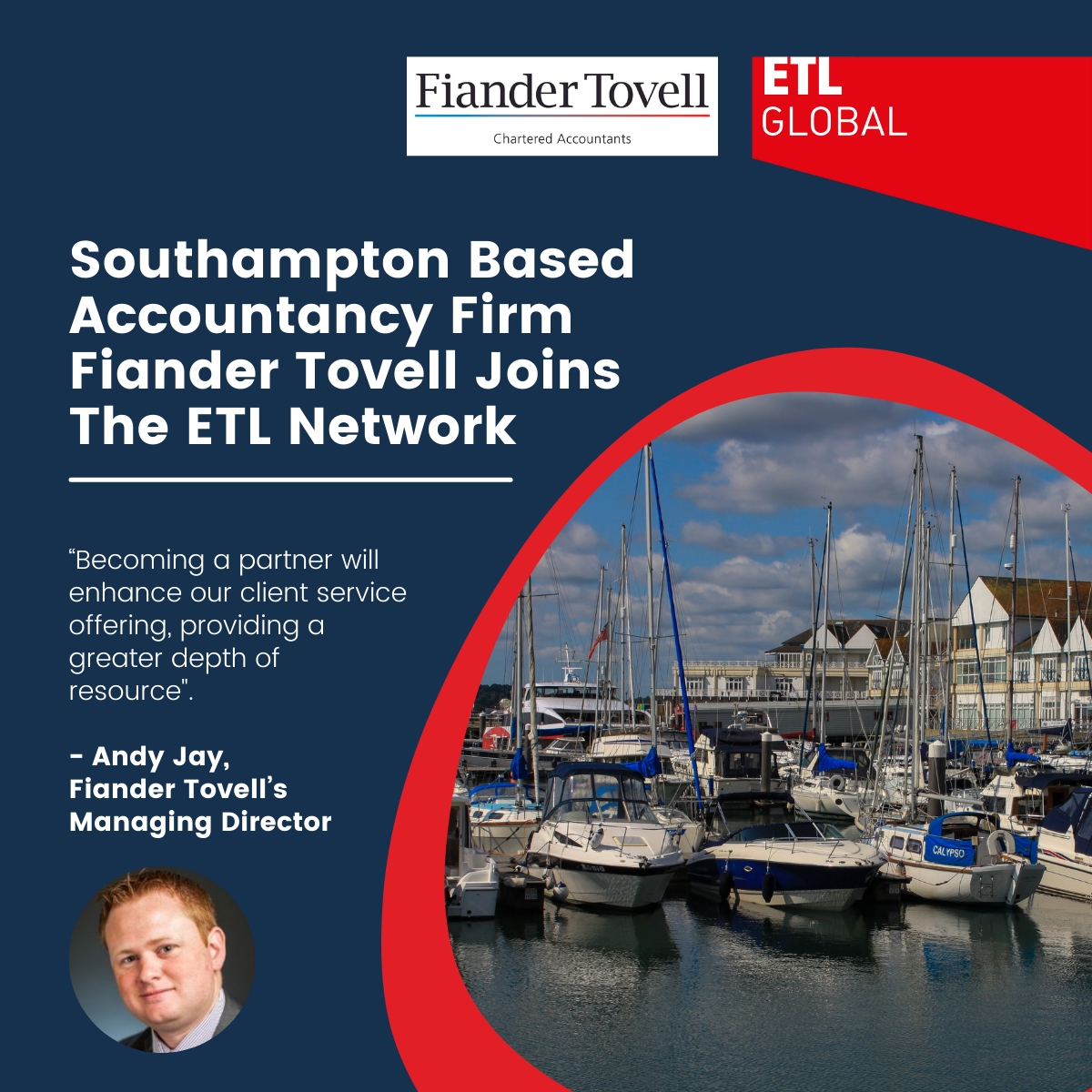 We are very pleased to announce that ETL Global has expanded its UK network with a recent investment in Fiander Tovell.
Formed in 1977, Fiander Tovell is an independent, director-led practice that works with business owners and directors at every stage of their business lives, from start-up through to growth and consolidation and on to succession and exit strategies.
Based in Southampton, the practice is an exciting addition to the ETL Global partner portfolio. Currently, ETL Global is represented by over 13,000 professionals and has a portfolio of over 320,000 clients.
Day-to-day operations at Fiander Tovell will continue as normal. The existing directors at Fiander Tovell will continue to lead the firm, maintaining their focus on providing a great personal service to their clients, and as members of the ETL network will be able to offer an increased level of UK-wide and international support.
Andy Jay, Fiander Tovell's Managing Director, says "We are delighted to join the ETL Network. Becoming a partner will enhance our client service offering, providing a greater depth of resource while ensuring that we retain our independence and our standing as a leading Southampton firm."
Fiander Tovell prides themselves on providing their clients with maximum benefit, helping them to run their business more efficiently and cost-effectively. Their aim is to maximise performance and profit allowing their clients to keep more of the money they make through effective tax planning.
Sara Brassington, Managing Director of ETL Global UK, had this to say about the new partnership:
"We are pleased to welcome Fiander Tovell into the ETL family. We are eager to begin forming a close working relationship that will be mutually beneficial for both parties. The firm has shared values such as innovative advice, efficient support, prompt turnaround, and the provision of proactive business and tax advice."
Expanding our network in the UK continues to be a primary focus for ETL Global and we are pleased to continue to build our extensive portfolio of professional service firms with such a reputable company."
To learn more about Fiander Tovell please visit their website here.
For further information or media interviews please contact:-
ETL Global UK Sara Brassington on 01941 816 512 or by email – [email protected] Emma Martin on 01942 816 512 or by email – [email protected]
Fiander Tovell Andy Jay -Managing Director – 02380 332 733 or by email – [email protected]